Faced with a global pandemic, fashion houses have all been considering the brand statement to carry them through; on one hand, no one wishes to look frivolous but more importantly after a year of casual wear, fashion has a duty to uplift and inspire us all. The lens is focussed on travel – both time and space.
Time; prints hark back to the 60's and 70's; swirling psychedelic prints, dip dyes and vintage inspired graphics all have a nod to the past. Florals sit within this band of yesteryear ranging from bold silhouette botanicals, vintage graphic flowers to the other end of the scale with soft overblown blooms. Scarf prints, either with tiles or a whimsical nautical feel. Light hearted conversationals lift spirits with many clients looking for seaside shell and corals motifs, fruit, hearts and star patterns. 70's geos mis matched with clashing prints or borders, kilts and summer checks all make for a story of maximalism, balance comes in the form of solids and light weight knits in the collection to avoid overload. Colour is key and the unexpected combinations of petrol and duck egg blues teamed with pops of lime and chartreuse or pinks and deep burgundys and tobacco are still key but move to even more lurid brights of neon tempered by black and white to ground the palette.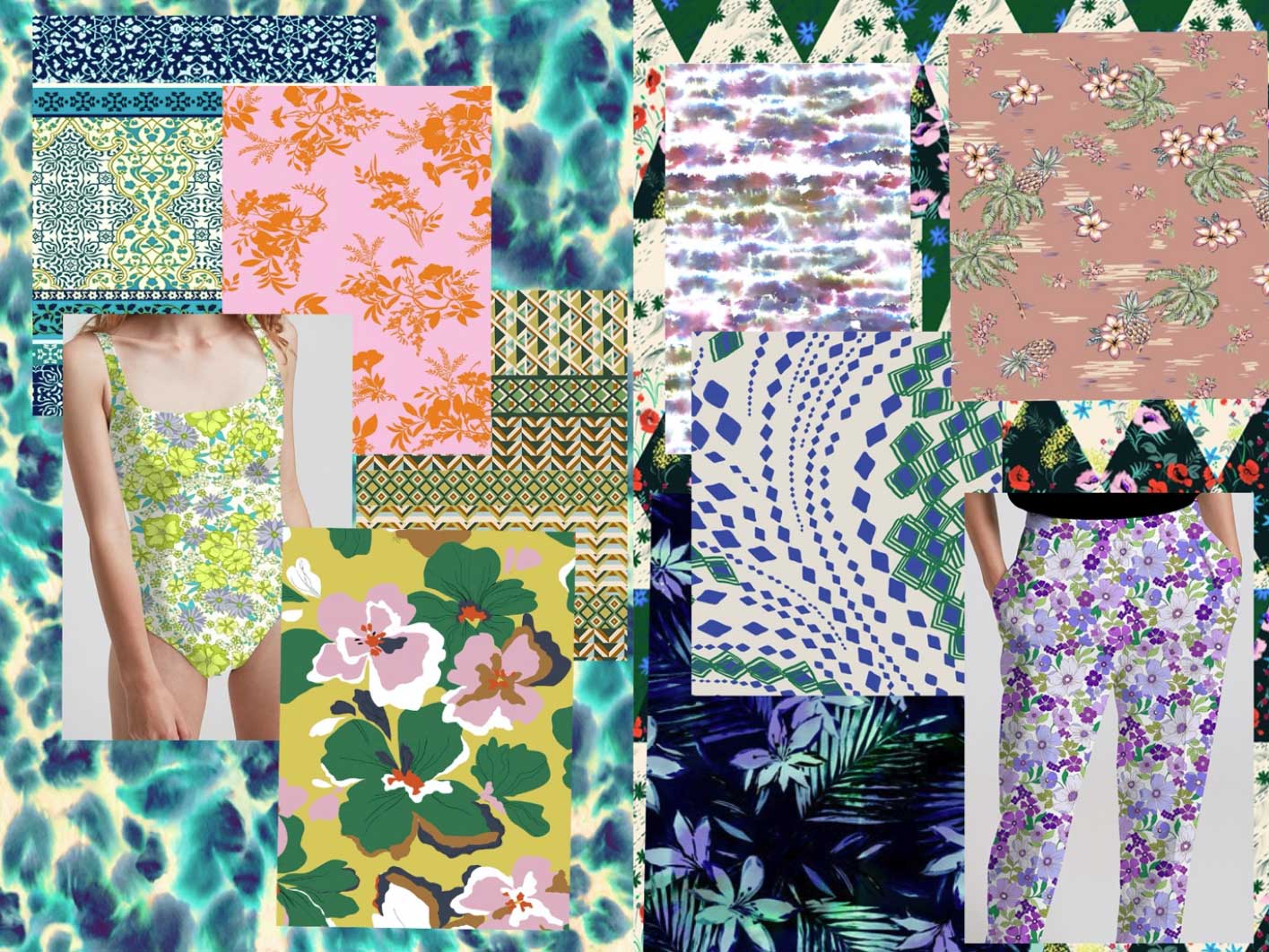 Space; and though there is a lot of astrological references (no doubt as we all search to understand the mystical side of our lives being upturned) with stars appearing in collections or more detailed maps of the sky (think FRS collection) in this
instance I refer to the space that surrounds us and in turn travel. We are all craving to be transported to an imaginary world away from the everyday hum-drum of life and prints provide this alternative form of travel with a nod to the exotic from ikats, shibori, traditional African block prints and paisleys, with botanical style jungle prints and oversized leaves giving us a taste of the unexplored. There is some talk of orientalism and the elegance of a Kimono print but the true OTM look is more tribal in essence.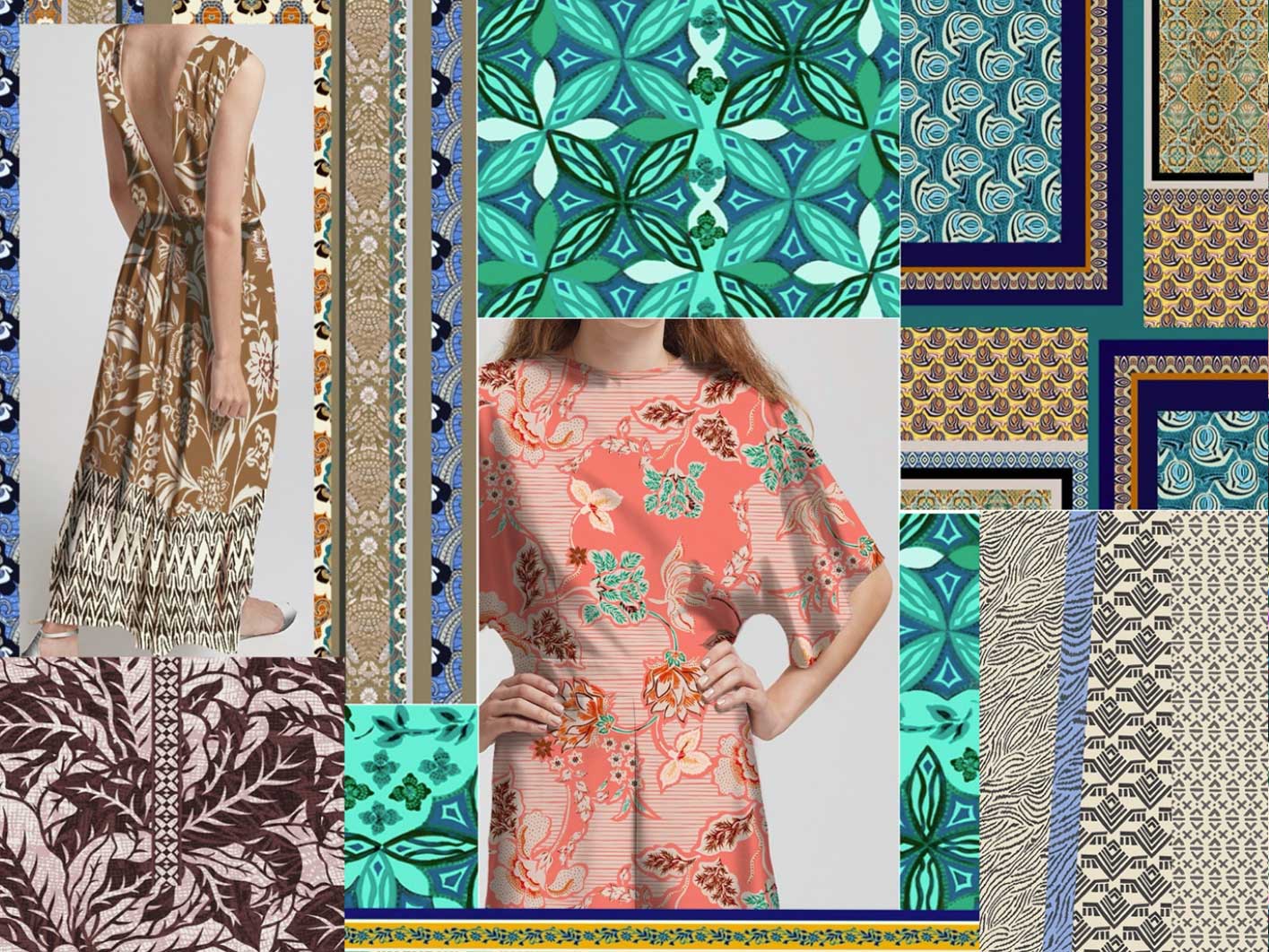 Contrary to those who view fashion as superficial, what we wear has never simply been about how we look, but about making statements as well as recording where we are in history and its context. The Black Lives Matter movement is a key moment for everyone, a narrative that needs air time as fraught and hard to discuss as it is. This is not about cultural appropriation but appreciation, taking that seed as inspiration to recreate an entirely new look. Hand painted pieces in couture brands filter down with graffiti writing and bold brush marks appearing as screened prints, batik and wax resist dyes with updated concepts all tying back to an appreciation of world cultural heritage.
The state of the environment is also at the forefront of our collective consciousness with many labels considering the importance of reducing waste and tightening their collections. This consideration of environmental impact reflects as a lean towards more hand crafted and artisanal pieces. Details such as mismatched trims in the form of cuffs and hems using up print that might otherwise have been landfill bring to mind the importance of lowering our carbon foot print and the visual richness of these images of rural African farmers with their refashioning of waste clothing; worn for function yet could just as easily be imagined as couture.